Christmas day is a special day and I like to serve a starter to go with my Christmas dinner. I feel it gives my Christmas Dinner that special touch.
One of the biggest challenges with a Christmas Starter is finding something to suit everyone. I have made 3 starters that are really quick and simple, making it easy for me to be able to offer a selection on Christmas day (see links below). The added bonus with the tomato soup and tomato bruschetta is that I can make them the night before, making my Christmas dinner that little bit easier.
Click on the below link to check out my other quick and easy starters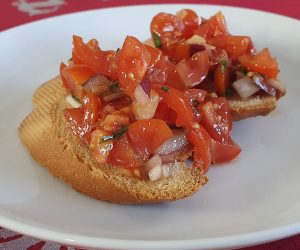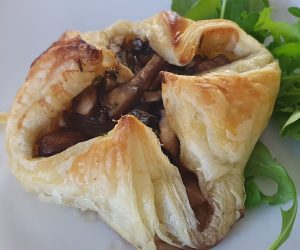 Why not check out my other Christmas Recipes
Mince Pies – Wow your friends with these mince pies. They are so simple and delicious, each bite warms the soul with the very essence of Christmas.
Mincemeat – Mince Pie Filling – This recipe is so simple, there is no waiting around for weeks for it to mature. You can make it today and use it today. Your kitchen will smell heavenly.
Healthy Mince Pie Bars – Spice up your mincemeat and try something new. They are a yummy alternative to mince pies They contain no unhealthy fats and they are also gluten-free.
Vegan Christmas Wellington made with Richmond meat-free sausages – A festive wellington is the perfect centrepiece for your Christmas dinner. Not only is it delicious, it's also really easy to make.
Tomato Soup
Course: Starter
I love this recipe, it's so simple to make and it's really healthy. (Depending on your bowl size, depends on the serving size.) This soup is also lovely to have on those cold winter nights.
Ingredients
2 Tbsp of Plant Based Butter

1 Onion roughly chopped

1 Heaped tbsp of plain flour

600ml of Vegetable stock

1 Tbsp of Tomato Puree

500g of Tomatoes
Directions
Melt the butter gently in a saucepan or one pot cooker. Add your onions and fry until softened.
Add a good tbsp of flour, stir and fry on a low heat. Be careful not to burn. Stir until it's a sandy texture.
Add the stock a little at a time, whisking to keep it smooth. Once all the stock is added, add your tomatoes and tomato puree. Season with salt and pepper.
Cover and simmer on a low heat or in your one pot for around 1/2 an hour to hour. Ensuring the tomatoes are softened.
Once your soup has cooked blend until smooth.
Reheat when you are ready to serve.
Recipe Video
Notes
To blend the soup I used an immersion blender.
I also like to use a one pot cooker to make my soup. It's great to store your soup until you are ready to serve.
You could spice up your soup by adding garlic or basil.
Equipement
Instant Pot Duo V2 7-in-1 Electric Pressure Cooker, 6 Qt, 5.7L 1000 W, Brushed Stainless Steel/Black, 220-240v, Stainless Steel Inner Pot