Christmas day is a special day and I like to serve a starter to go with my Christmas dinner. I feel it gives my Christmas Dinner that special touch.
One of the biggest challenges with a Christmas Starter is finding something to suit everyone. These starters are really quick and simple making it easy for me to be able to offer a selection on Christmas day. The added bonus with the tomato soup and tomato bruschetta is that I can make them the night before, making my Christmas dinner that little bit easier.
Click on the below link to check out my other quick and easy starters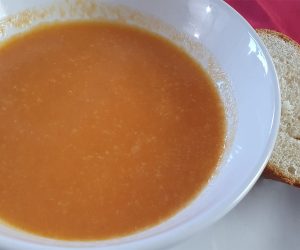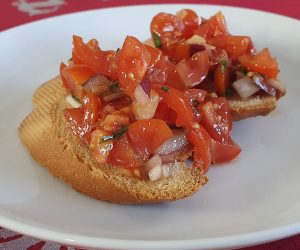 Why not check out my other Christmas Recipes
Mince Pies – Wow your friends with these mince pies. They are so simple and delicious, each bite warms the soul with the very essence of Christmas.
Mincemeat – Mince Pie Filling – This recipe is so simple, there is no waiting around for weeks for it to mature. You can make it today and use it today. Your kitchen will smell heavenly.
Healthy Mince Pie Bars – Spice up your mincemeat and try something new. They are a yummy alternative to mince pies They contain no unhealthy fats and they are also gluten-free.
Vegan Christmas Wellington made with Richmond meat-free sausages – A festive wellington is the perfect centrepiece for your Christmas dinner. Not only is it delicious, it's really easy to make.
Garlic Mushroom Parcels
Garlic and mushrooms are the best combination.
Ingredients
2 Tbsp of Olive Oil

3 Garlic cloves, finely chopped

750g of Chestnut Mushrooms

2 Tbsp of chopped parsley

1 Roll of Puff Pastry

Plant-Based Glaze (see notes)
Directions
Preheat your oven to Gas Mark 6 / 200C / 400F
Heat the oil in a frying pan, add the garlic, mushrooms and fry over a high heat until cooked. Season with salt, pepper and sprinkle over the parsley. Set to aside to cool.
Cut your puff pastry into 6 squares. Brush the edges with a little olive oil. Add a spoonful of the cooled mushrooms into the middle of one of the square. Seal by joining the corners (see video), creating a parcel. Brush with the Plant-Based glaze.
Repeat the process with the remaining 5 squares.
Place the completed parcels into the oven for around 20-30 minutes or until brown.
Recipe Video
Notes
Plant-based glaze is 2 tbsp of soya milk to 1 tbsp of maple syrup.