This omelette is really fluffy and has the perfect eggy texture. It's hard to believe that there are no eggs. Not only is it vegan, it's also cholesterol-free and gluten-free.
I have been vegan for 6 years and one thing I used to enjoy was an omelette. This is the first time that I have tried making an omelette and I can say it's the best I have ever had.
I have decided to make a Spanish Omelette with tomato, onion, courgette, garlic and potato. With this omelette mix, you could add any ingredients you like.
This is now my third egg replacement recipe using tofu. Check out my other recipes.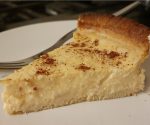 One day my partner said to me, "Do you know what I really miss? Egg custard". It has been over 5 years since we last had one. He said, "Please veganise it for me". My challenge was set and I can honestly say I've done it.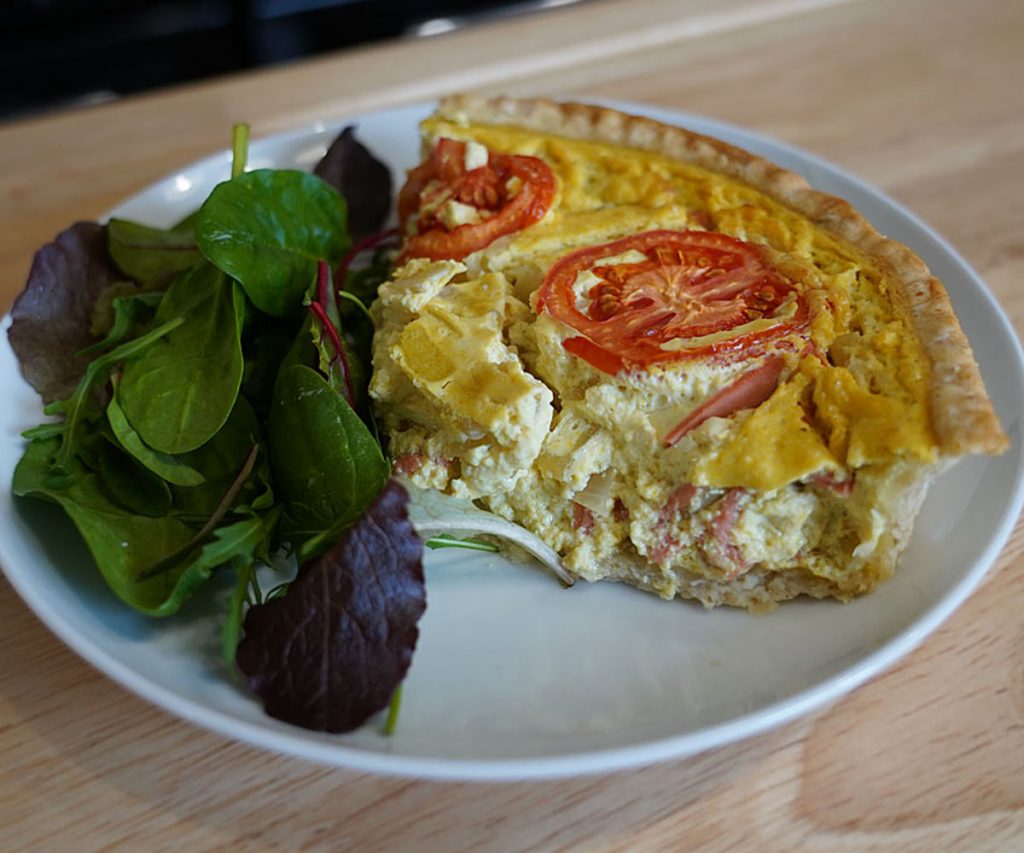 I love this quiche, it's really easy to make and packed full of traditional flavours. The perfect recipe for a lazy Sunday or for a family gathering.
Vegan Spanish Omelette
Ingredients
Omelette Mixture

1 Block of Silken Tofu – I used 349g block

1/4 Tsp Turmeric

1 Tsp Black Salt

1/2 Cup Soya Milk

1/2 Cup Gram Flour

2 heaped Tsp Nutritional Yeast

Spanish Omelette

Mixed Herbs

1 Diced Tomato

3 Crushed Garlic Cloves

1 Diced Onion

1 Diced Courgette

1 Large White Potato ( Softened )
Directions
Prepping the Veg
Start by warming your pan with a dash of olive oil. Add your courgette and fry for a few minutes. Add your onion and garlic. Fry until brown.
Once the vegetable have browned off, sprinkle in a good amount of mixed herbs and stir. Add your potato and mix together. Place to one side while you make your omelette mixture.
Making the omelette
Add all the omelette ingredients into a bowl and blend. (I used an immersion blender)
In an empty frying pan (you may need to tip your vegetables onto a plate) add olive oil and warm up your pan. Once your pan is warm add in your omelette mixture. Shake your pan to ensure it's evenly spread out and covers the whole pan.
After a couple of minutes add the tomato and the vegetables on top of the omelette mixture in the pan. Press down slightly to ensure they are sitting in the mixture. Cook for around 5 minutes, giving it a shake every now and again to prevent sticking. (The omelette will start to thicken and the side will start to brown)
To brown of the top and to ensure the mixture is cooked, place under the grill until browned off. Plant based cheese would be a nice addition here.
Recipe Video
Notes
I tipped out the vegetable from my frying pan and continued using it. Your frying pan doesn't need to be clean.
Braun MultiQuick 1 Hand Blender MQ100 Soup, stainless steel blades, BPA free plastic beaker, dishwasher safe wand – White