As a craft baker, I've spent many years working in a bakery and I've seen 1000 upon 1000 of mince pies, after a while, you start to get a little fatigued and vow NOT to make another (If you follow my blog you will know this vow has now been broken). So I decided to spice up my mincemeat and try something new. And here we have the new recipe, mince pie bars. They are a yummy alternative to mince pies. They contain no unhealthy fats and they are also gluten-free. Why not give them a go, you may be wowed and enjoy them as much as me.
Pop over to my mince pie recipe.
Healthy Mince Pie Bars
These mince pie bars are gulten free and contain no unhealthy fats.
Ingredients
1 1/2 Cups of Rolled oats blended (turned into flour)

1 3/4 Cups of Rolled Oats

1/2 Cup of Smooth Peanut Butter

2 Bananas – Mashed

2 Tsp of Baking Powder

1/2 Tsp of Vanilla Extract

2 Cups of Mincemeat
Directions
Pre Heat the oven the Gas mark 6/ 200c / 400f.
Add your peanut butter and bananas into the rolled oats and give a good stir. Then add all your remaining ingredients except the mincemeat and give another stir.
Using a greased tin or a tin with greaseproof paper (I used a loose bottom tin). Half your mixture and layer the bottom of your tin, then add a layer of mincemeat and top with the remaining mixture.
Pop into the oven for around 20 minutes or until brown.
Once removed from the oven cut into bars while warm and then leave on a wire rack to fully cool. Store in the cupboard an airtight container.
Recipe Video
Notes
I used the peanut butter as a replacement for your butter. It's advisable to stick with smooth unsweetened peanut butter.
Brown bananas are great for this recipe.
Equipment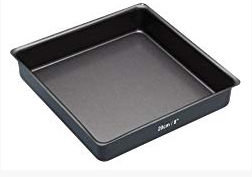 MasterClass Non-Stick Square Sandwich Tin with Loose Base, 20 cm (8″)