Christmas day is a special day and I like to serve a starter. I feel it gives my Christmas Dinner that special touch.
One of the biggest challenges with a Christmas Starter is finding something to suit everyone. These starters are really quick and simple making it easy for me to be able to offer a selection on Christmas day. The added bonus with the tomato soup and tomato bruschetta is that I can make them the night before, making my Christmas dinner that little bit easier.
Click on the below link to check out my other quick and easy starters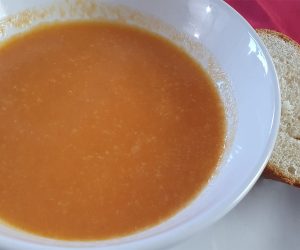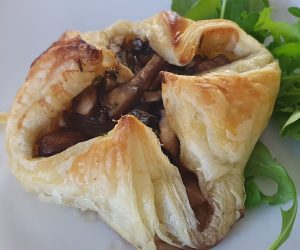 Why not check out my other Christmas Recipes
Mince Pies – Wow your friends with these mince pies. They are so simple and delicious, each bite warms the soul with the very essence of Christmas.
Mincemeat – Mince Pie Filling – This recipe is so simple, there is no waiting around for weeks for it to mature. You can make it today and use it today. Your kitchen will smell heavenly.
Healthy Mince Pie Bars – Spice up your mincemeat and try something new. They are a yummy alternative to mince pies They contain no unhealthy fats and they are also gluten-free.
Vegan Christmas Wellington made with Richmond meat-free sausages – A festive wellington is the perfect centrepiece for your Christmas dinner. Not only is it delicious, it's really easy to make.
Tomato Bruschetta
Course: Starter
Tomato Bruschetta is a simple starter with lots of flavour. I love how easy this is to make, freeing up a lot of time to concentrate on my Christmas Dinner.
Ingredients
1/2 Small Red Onion – Finely chopped

A pack of Vine Ripened Cherry Tomatoes or around 300g – chopped and drained

2 Garlic Cloves – crushed and chopped

15 ml of Balsamic Vinegar

30ml Extra Virgin Olive Oil

2-3 Basil Leaves – Finely chopped
Directions
In a bowl, mix the onions, tomatoes, garlic and basil being careful not to mash the tomatoes or break them up too much. Add in your balsamic vinegar and olive oil, season with pepper and salt and mix again. Once done pop into the fridge for around an hour to allow the flavours to combine and absorb.
To make your bruschetta, slice a baguette diagonally into thick slices. Toast them under the grill until they are light brown on both sides. Serve the mixture on the warm toast.
Recipe Video
Notes
I like to remove the mixture from the fridge for around half an hour, so it's at a room temperature.